Some web sites by Aimee Ellingsen:
you're here at my ancient site

if you would to see more web sites that I have designed.

Work Experience:
2001-Present
CAKE Websites & More LLC
Owner & Creative Director
(828) 850-8563

7/97 - 2001
Self-Employed Freelance Web Site Designer
(888) 836-7278

7/96 - 2011
Mentor Solutions (formerly In/Form Solutions)
201 Mentor Drive
Santa Barbara, CA 93111
(800) 994-6367
position: Web Site Provider
contact: Marie Olesen

9/96 - 5/97
The Cooper Union
30 Cooper Square
New York, NY 10003
(212) 353-4235
position: weekend printmaking technician
contact: Lorenzo Clayton or Day Gleeson

l0/94 - 3/96
Whitney Museum of American Art
ArtReach Education Programs
120 Park Ave.
New York, NY l0017
(212) 717-0688
job: teaching assistance and class material preparations
contact: Dina Helal, Community and Family Programs, or Carol Sun, instructor

1/94 - 5/94
Leone & Macdonald
118 W. 79th Street, Apt. 9A
New York, NY 10024
(212) 873-3107
job: artist's assistant for papermaking project & installation
contact: Jennifer Macdonald or Hillary Leone

93, 94, 95 summers
Idyllwild School of Music and the Arts
315 W. 9th St. #306
Los Angeles, CA 90015
(213) 622-0355
position: Children's Center: Day Student Coordinator, Counselor
contact: Joe Grey, Children's Center Director, or Steve Fraider, Director

8/91 - 6/92
Gallery Eight
7464 Girard
La Jolla, CA 92037
(619) 454-9781
job: salesperson, general office work
contact: Flossie Cohen or Ruth Newmark



I can provide a more extended list, but have listed all recent and/or relevant work.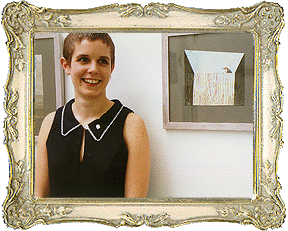 Shows:

http://www.aimeee.com on the world wide web, now


"Swing" at the Cooper Union, New York, NY 1996


"Cooper Union: Digital Work" at the Cooper Union, New York, NY 1996


"Art Walk" in and around La Jolla, 1995


"Transitional Images: Trangressive Imaginations" at the Cooper Union, New York, NY 1995


"Not For Sale" at Flamingo East, New York, NY 1994


"End of the Year Show" at the Cooper Union, 1993, '94, '95, '96


"Presidential Scholars in the Visual Arts" at the National Museum for American Art, Washington, D.C.

Awards Received:
A. A. Lowe Fund Prize for Excellence in Art at the Cooper Union


Cooper Union Alumni Association Award for Outstanding Service to the School


Noble Fellowship - selected for 2 year paid internship program, 1994


National Foundation for Advancement in the Arts, Herb Alpert Award for Top Visual Artist, 1992


National Foundation for Advancement in the Arts, First Place Award, 1992


Presidential Scholar, 1992


American Academy of Achievement Award, Las Vegas, 1992

Education:
College: The Cooper Union, Bachelor of Fine Arts, 5/96


High School: Torrey Pines High School, Graduate, 5/92

References:

And, some other information:
Primarily, I am a visual artist and have interest and experience in many media. Lithography, etching, photography, mosaic, collage, typography, film, and digital techniques are all integral to my art making process and progress. Growing live art, AKA gardening, is my current obsession. The art of cooking is another great love and practice of mine. Though work and art keep me very busy, I also enjoy pinochle, cribbage, Scrabble, yoga, hiking, body surfing, traveling, and spending time with my husband, child, and our families.

backdoor